The crepe myrtle is one of Hampton Roads' favorite trees with its tolerance to the summer heat and its gorgeous blooms that can last almost one-third of the year! While these trees bloom mostly throughout the summer into the fall, you can enjoy them all year-round with their dome-shaped canopies, interesting trunk shapes, smooth bark, and foliage that changes with the seasons. 
For Crepe Myrtle Days this year, we have compiled a list of our top 5 crepe myrtles of 2021! 
Catawba Crepe Myrtle - 
This variety displays large, long-lasting clusters of dark purple blooms. This color is vibrant and impactful in any landscape. The catawba foliage is bronze in the spring, bright green in the summer, and vibrant orange-red in autumn. The catawba is also mildew-resistant, which is great for more humid areas and landscapes. The catawba develops a nicely shaped, naturally rounded, dome as it matures. Pruning may be required for any crepe myrtle to prosper. To learn more, check out our video of Mike, the Garden Guru on Pruning 101 for some helpful suggestions.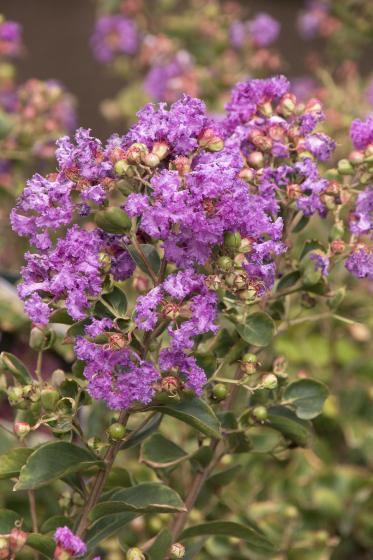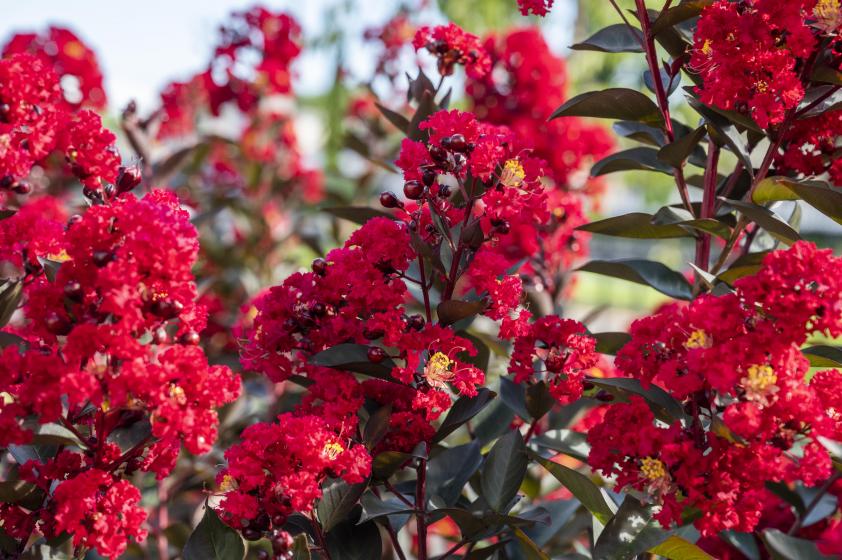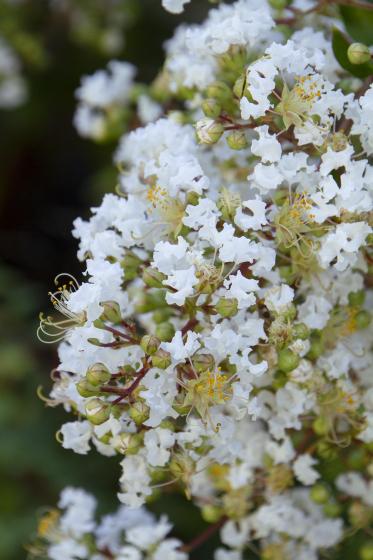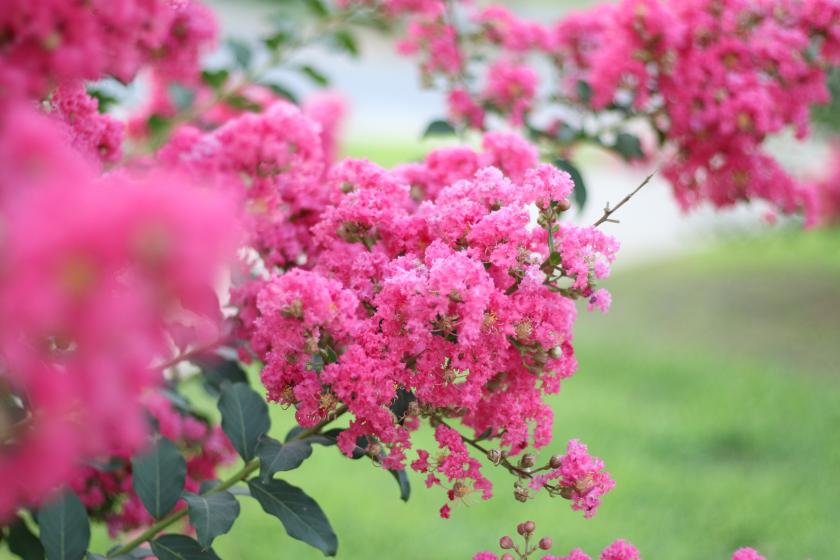 Dynamite Crepe Myrtle - 
The Dynamite crepe myrtle is a beautiful tree that grows on the smaller side. Because of this, the dynamite crepe myrtle is great for planting in containers. It has showy, ruffled, fiery-red blooms that are paired with vibrant, orange foliage. If you are looking for a blast of bright warm hues, this is the crepe for you! 
Double Dynamite Crepe Myrtle -  
If you are looking for even more color than the dynamite crepe myrtle, this variety offers a double dose of explosive color throughout the summer. With foliage that emerges deep purple then matures into a dark green through the summer, this double dynamite shows off with large and intense cherry-red bloom clusters. The double dynamite is heat-tolerant and mildew resistant, making it an ideal upright shrub for both the landscape and containers. 
Natchez Crepe Myrtle - 
The Natchez is a medium-sized tree with dark, cinnamon brown, exfoliating bark. Its glossy, dark green leaves turn vibrant orange-red in fall.  The main allure of this tree, however, is its delicate clusters of pure white blooms that burst out all summer long. This makes the Natchez an excellent specimen, accent, or group planting tree.
Tuscarora Crepe Myrtle - 
The Tuscarora is on the smaller side of the crepe myrtle spectrum. This deciduous tree produces an abundance of coral-pink frills for flowers. These blooms are stunning in the summer with their almost hot-pink look when the sun shines through the petals. The bright green summer foliage develops into an exquisite orange-red coloring in the fall. Light cinnamon-brown bark adds year-round interest to this lovely tree. The Tuscarora is a wonderful crepe myrtle for use as a large shrub to accent the landscape or as a street tree by your mailbox. 
Come see all of these amazing crepe myrtles for yourself during our Crepe Myrtle Days, July 15th - 18th, 2021! Check out our events page for more information here.