Passionate about plants? WE DIG PASSIONATE PEOPLE!
Founded over 75 years ago, McDonald Garden Center is a family-owned and operated garden center and landscape company. We offer a wide selection of high-quality products and services. This multifaceted business includes two year-round garden centers, seasonal garden markets, and a landscape division. We are looking for dedicated and motivated team members to continue our tradition of excellence. 
 Warehouse Delivery Driver
Based at our Hampton, Va. Distribution / Warehouse location, the duties of the Warehouse Delivery Driver include loading and delivery to our Virginia Beach stores and surrounding seasonal McDonald Garden Markets, plant products, mulch, pots, furniture, and related lawn and garden merchandise.  The ideal candidate will be familiar with the streets and highways of the greater Hampton Roads area.  Additionally, the Warehouse Delivery Driver should be familiar with the use and operation of various material handling equipment and devices.
The qualified candidate must be 18 years of age, have at least one year's experience in the operation of a 26" box truck, possess a valid state-issued operator's driver's license, favorable driving record with no major moving violations.  Must be able to lift up to 50 pounds, be dependable, and be able to work some weekends, as needed. 
Receiving and Warehouse Associate
Working in our stores and warehouses located in Hampton, Va. and Virginia Beach, Va., this position is responsible for the receiving, tagging, shipping, and disbursement of the display of our plant and garden merchandise.  Using various material handling devices, this position will transport, warehouse, and provide the proper care and maintenance of our products for sale to our customers. 
The ideal candidate must be able to prepare invoices, packing lists for product delivery and submit various reports and product information to stores, garden markets, and our corporate office.
The ideal candidate should have at least one year's experience with similar responsibilities, preferably in a retail garden center.  Should have experience in the operation of a mechanical pallet jack and similar material handling devices.  Must be able to lift up to 50 pounds, be dependable, and be able to work some weekends, as needed.
Receiving Manager
 Reporting to the Store Manager, this full-time position will be responsible for managing and distributing merchandise received for retail sales and displays.  The ideal candidate will be detail-focused and highly organized in overseeing and directing the unloading, tagging, and staging of products in accordance with company standards, ensuring safe and efficient operations of all processes. The ideal candidate will be experienced in the operation of material handling equipment, including forklift and pallet jack usage.  Various daily and weekly statistical reporting are required. 
To be qualified, the ideal candidate must possess a valid state driver's license, be able to lift up to 50 pounds, and have at least one year of experience in a lead or supervisory warehouse/receiving/distribution position. Part-time and full-time positions are available for interested candidates, based on our business needs.
Sales Associate - Retail Stores and Seasonal Garden Markets
The Sales Associate position will serve as the product knowledge expert for a wide variety of plants: trees, shrubs, lawn, and garden products for sale to our customers.  This position will answer questions and provide technical expertise to lawn and garden enthusiasts.  As a member of the McDonald Garden Center team, you will assist in the staging, display, and sale of merchandise, ensuring the proper signage and product information of all merchandise.  The Sales Associate will offer suggestions and demonstrate the use and care of products for the customer.  Opportunities for this position are available throughout all of our retail locations, including our seasonal McDonald Garden Markets, within the greater Hampton Roads community,
 The self-motivated, engaged sales associate will promote gardening success through merchandising, sales, training, customer education, and service.  The ideal candidate will have a passion for gardening, be customer service-focused with previous retail sales, and have strong customer service skills.  Part-time and Full-time retail store positions are available for interested candidates, based on our business needs.  Garden Market positions are strictly seasonal and ideal for someone desiring to work a spring/summer schedule.
Cashiers
McDonald Garden Center cashiers will provide friendly customer-focused service at all times.  This is a part-time or seasonal position, which will be responsible for greeting customers at check-out and process POS sales transactions in accordance with company policy and procedures.  The Cashier will assist customers with loading their purchases onto carts and coordinate customer lot assistance, as necessary.  Must be detail-focused and organized in assisting customer needs.   The positions will be responsible for answering and directing incoming phone calls to departments and providing direction to customers, as needed. The position will also assist with the pricing of merchandise for sale. 
To qualify for this position, you should embrace a customer service-first attitude.  Preferably, the ideal candidate will have at least 6 months of experience in a similar position with the ability to operate POS registers and scanners.  Lifting and carrying up to 25 pounds is an essential requirement of this position.
Installation / Build-out Crew Members
The members of the McDonald Garden Center will be responsible for the preparation and installation of various garden design projects and/or the construction of our summer Garden Market retail sites.  The ideal candidate should have previous construction labor experience utilizing various hand and power tools.  Based in Hampton, Virginia, the crew members will perform operations throughout the greater Hampton Road area. Transportation is provided to all project site locations.
To qualify, the candidate must be able to work in an outdoor environment with the ability to lift up to 50 pounds. A valid driver's license is required.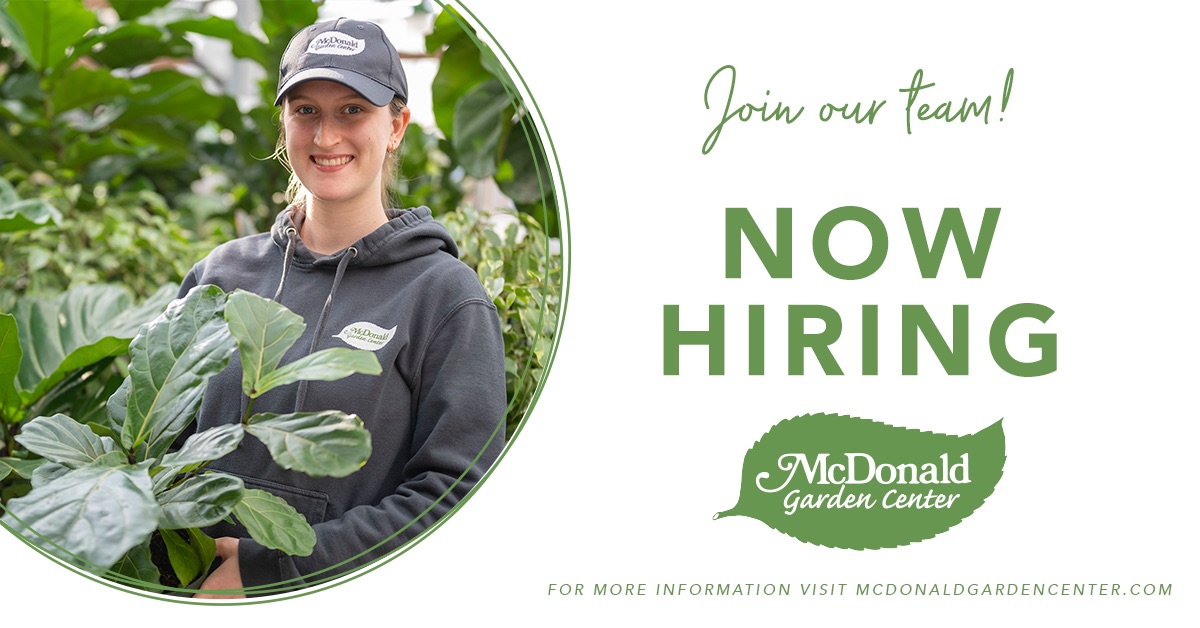 McDonald Garden Center has opportunities open for you to grow your career with the passion of your love for plants! We are currently recruiting for the following positions throughout our operations. To be considered for any of these positions, please download and complete our employment application and submit to hr@mcdonaldgardencenter.com.
EQUAL EMPLOYMENT OPPORTUNITY EMPLOYER
McDonald Garden Center is an equal opportunity employer that is committed to diversity and inclusion in the workplace. All aspects of employment including the decision to hire, promote, discipline, or discharge, will be based on merit, competence, performance, and business needs. We prohibit discrimination on the basis of race, color, religion, marital status, age, national origin, ancestry, physical or mental disability, medical condition, pregnancy, genetic information, gender, sexual orientation, gender identity or expression, veteran status, or any other status protected under federal, state, or local law.
Email resumes to hr@mcdonaldgardencenter.com