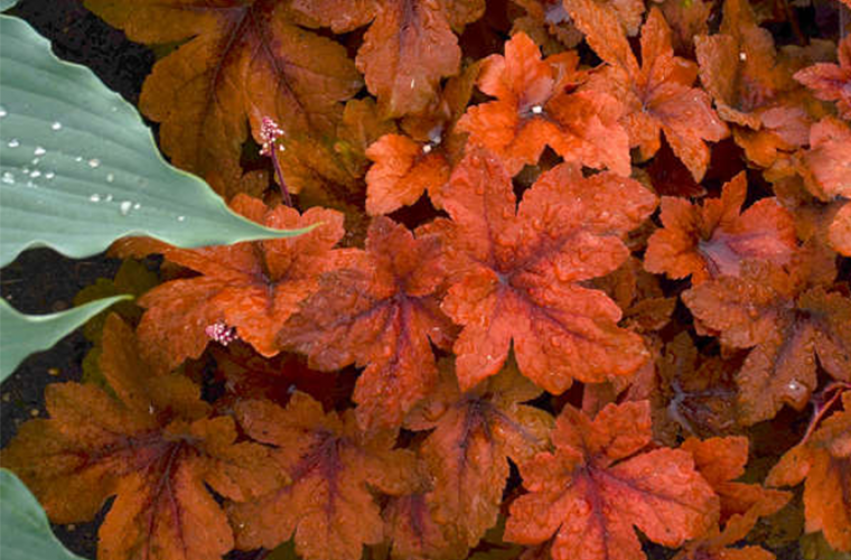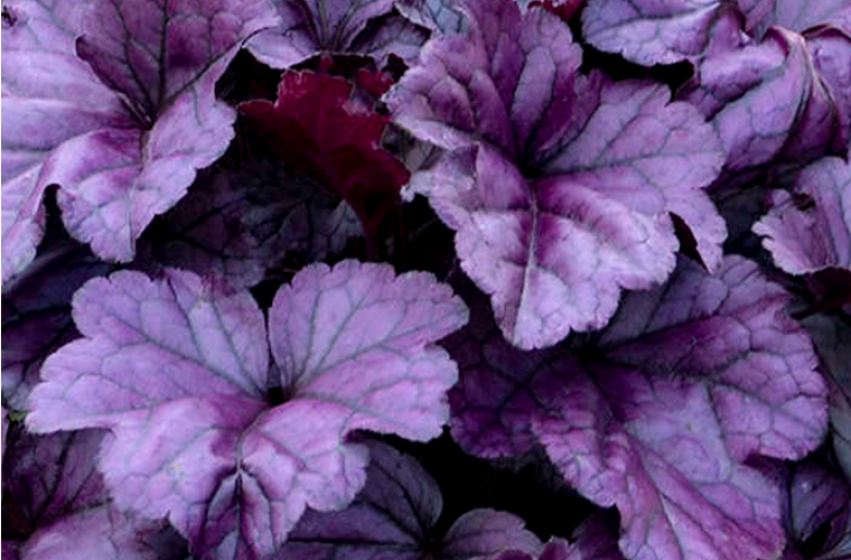 Heucheras, also known as coral bells or alum root, are shade perennials known mostly for their striking, robust foliage. Heucheras begin to bloom in late spring and produce clusters of small blooms on spindly stems, typically in a magenta pink (hence the name coral bells). New cultivars and hybrids are being introduced regularly, giving gardeners stunning new colors choices that range from silver and gold to lime, burgundy, chocolate brown, purple, green and more. Its foliage may be evergreen or semi-evergreen, depending on the climate. This easy-to-grow, low-maintenance plant blends seamlessly with most other perennials in the landscape and does well in rock gardens, beds and borders, and under trees, shrubs or perennials. They grow moderately well in containers and provide great fall and winter interest. Heucheras can take full to part sun, but prefer a cooler and drier site in well-draining, humus-rich soil.
Check out these two NEW, gorgeous heuchera varieties for 2020:
Heucherella Pumpkin Spice-Holy Moly - offers a sweet taste of fall in spring. Bronze-red leaves emerge in late spring with color into early summer. Four-inch lobed leaves have deep mahogany centers. Dark red stems with cream flowers appear in early summer with evergreen foliage in winter in most climates. For best foliage color and performance, plant in an area with filtered sun or afternoon shade. 'Pumpkin Spice' is naturally more heat and humidity tolerant and also has greater vigor than some other heucherellas.
Heuchera Wildberry- features large, scalloped, vivid purple leaves that keep their purple pigment for much of the season. Charcoal veins accent the leaf color making the leaves pop. Dark stems hold rosy pink calyxes and white flowers. Because of their low, mounding habit, they are often used as edging along paths or in containers.
What's the differences between Heuchera, Tiarella and Heucherella:
Heuchera provide lots of color and a maple-shaped leaf that can be ruffled with veining, etc. Flowers are bell-shaped and bloom on tall or short stems.
Tiarella have lobed or heart-shaped foliage, which is typically green with maroon barring in the center. Its flowers are star-shaped and are usually clustered together at the top of the stems.
Heucherella are a result of crossing the two genus together (heuche + rella) and gets qualities from each of the two genus. The color usually comes from the heuchera and leaf shapes and markings from the Tiarella.
Images provided by Walters Gardens, Inc.