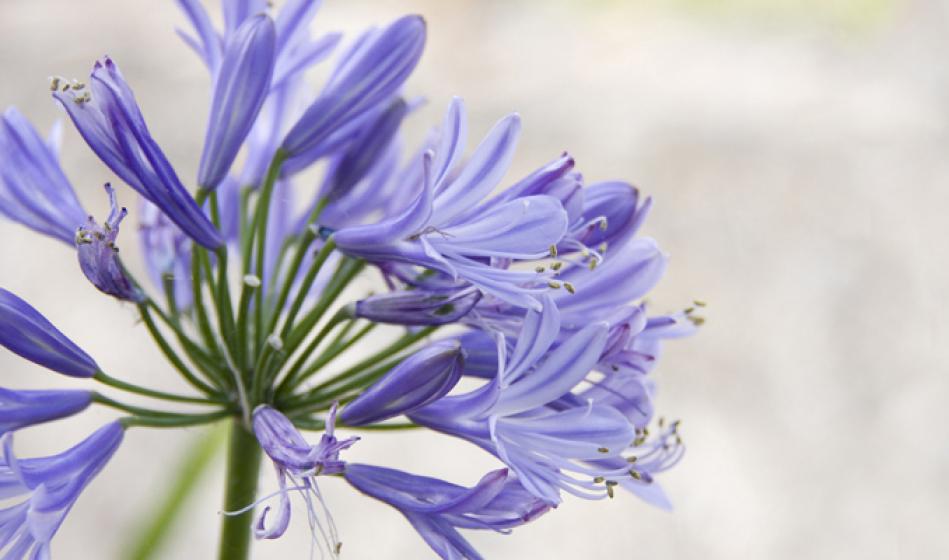 When summer arrives, you may turn on your TV for entertainment, but there could be an equally entertaining show going on right in your own garden with 'the plants of summer.' When the sun is high and the temperatures soar, these plants display beautiful blooms and foliage, often attracting bees, butterflies and birds in the process. Add these beauties to your garden for a great summertime show!
Agapanthus, also known as Lily of the Nile is an ideal, easy-to-grow perennial that produces colorful globes of blue or white trumpet-shape flowers in summer and fall. Its evergreen leaves add texture to beds, borders, and containers all year long. Prefers full sun.
Miss Molly Butterfly Bush is nice & neat shrub with compact branching and beautiful rich Sangria-red flowers. Its distinctive flower color makes late summer gardens pop and attracts tons of butterflies to the garden! This one prefers full sun and is perfect in the landscape or in a container on a porch or patio.
Blue Chiffon Rose of Sharon is a stunning shrub featuring huge double blue flowers with a lacy center. This summer-blooming shrub grows 8-12 feet, is drought tolerant and loves the sun. Plant and prune into a hedge or simply place it in sunny spot in the landscape for a profusion of beautiful blooms!
Madison Jasmine Vine is an easy-to-grow climber that produces beautiful clusters of starry flowers you can smell from feet away! The butter cream blooms are what makes this evergreen vine stand out in a crowd. 'Madison' is a cold hardy variety with glossy, dark green leaves that change to a rich bronze-red in winter. Grow it on a trellis or arbor, or along a fence. It prefers full to partial sun and rich soil well-drainage soil.
Windmill Palm has an upright, single trunk covered with dense, brown, hair-like fibers, with fan-shaped fronds that extend 1.5-foot-long. A very slow-growing palm, Windmill Palm can reach 40 feet in height, but is typically seen much smaller at between 10 to 20 feet tall. This particular tree works well as an accent tree or while still small, can placed in a container.
Bountiful Blueberry is an tasty evergreen shrub offering lots of large, super-sweet berries and boasts dramatic foliage with white bell-shaped flowers in the summer. This plant adores the sun ~ the more sun, the more berries! Plant in the garden or in a container with other edibles or flowers for a truly unique planter.