The weather is getting cooler and the colors of the season are starting to change. It's finally that time of year where our Green Team staff can share their fall favorites! Our staff loves to garden and because of this, we have decided to collect their favorite fall plants and products from our stores to share with you. From plants to decor and more, there is always a new fall favorite to look forward to. Maybe you will also find a new fall favorite to love! 
Candy + Ceramic Pumpkins
As one of our long-time decor specialists, Candy knows exactly what can make your fall decor differ from the rest. Being a Green Team member for over 20 years, she has helped cultivate and foster the decorative aspects of outdoor living to a point of near perfection. This year, we are showing off something with a little personality: our ceramic pumpkins. These versatile decorative pieces are great indoors and out. Candy explains why these are a must-have for your fall decorating this year. "My favorite this year is our ceramic pumpkins. They are a perfect way to add fall to your space and they are even better when you group various sizes together!"  
Andra + Mums
Andra joined our Green Team this year with a passion for gardening and excitement for the seasons to come. Mums are gorgeous perennials that highlight fall with their bright color and stunning bloom density. For Andra, mums mean that the fall season is finally here to stay. She tells us,"I love pumpkins and mums! All of the colors and all the types. It tells me that cool weather is here and the holidays are coming!" To learn more about mums, come ask Andra about her fall favorite at our Great Neck location. 
Meghan + Lavender
Our Great Neck Green Goods lead, Meghan, is an absolute expert on outdoor plants. Meghan has worked in a number of departments at both of our year-round locations, so she definitely knows the ins and outs of fall here at the garden center. After many years of many favorites, she has decided on lavender as this year's fall favorite! She explains, "This beautiful perennial not only looks amazing but also smells fantastic." Lavender can also reduce stress, is an edible herb, and a natural bug repellant. What isn't there to love about lavender? 
Ian + Heirloom Pumpkins
As our newest Green Team member and cashier, Ian is digging into what the fall season means to him through his first fall favorite. His choice of heirloom pumpkins was a great one. These special pumpkins come in a large variety of types, perfect for a customizable fall look, no matter what color scheme you are going for. Ian explains his choice as he says, "The interesting colors and textures of heirloom pumpkins make them great additions to fall decorating." Pair our heirloom pumpkins with a variety of fall decor and plants to create a perfect fall front porch! 
Stephen + Coneflowers
As our expert garden supply lead over at our Great Neck location, Stephen loves to share useful garden care tips with our customers. Keeping plants happy and healthy is a part of what garden supply is all about, and Stephen's choice for fall favorite this year is definitely an easy one to keep happy. Coneflowers are one of the late summer to early fall essentials of any perennial garden. Stephen explains, "I love the bold colors and blooms that last through early fall. They're also amazing for pollinators." With their long bloom period and brilliant color, coneflowers are a perfect fall favorite.
​​
Lukas + Ornamental Kale
One of our Green Team members at our Great Neck location, Lukas, has chosen an essential annual for his fall favorite. He tells us, "The colors and textures of ornamental kale make them perfect for any fall combo." Ornamental Kale, like Lukas says, is perfect for combos and arrangements. They are not like your edible kale, as they are solely meant to look beautiful with other fall essentials. Try out ornamental kale for yourself in your garden beds or in your patio pots this fall!
​​
Nikki + Ornamental Grasses
Nikki is our perennial specialist and department manager at our Independence Boulevard location and she definitely knows her stuff when it comes to these year-round plants. This season, Nikki has chosen her fall favorite to be ornamental grasses. She tells us, "Ornamental grasses work really well in arrangements. They also add a good fall texture. My favorite variety is the miscanthus adagio." Come stop by our Independence location to ask Nikki for more information on her fall favorite!
Larry + Halloween Decor
Our delivery truck driver, Larry, is always there to put a smile on your face. Even after he has been out delivering to our stores or even to customers' homes, he makes time to walk through to see all the new fall plants and products. This season, our spooky decor caught Larry's eye. He explains, "I love all things Halloween!" From pillows to decorative pumpkins and figurines, there is so much to choose from.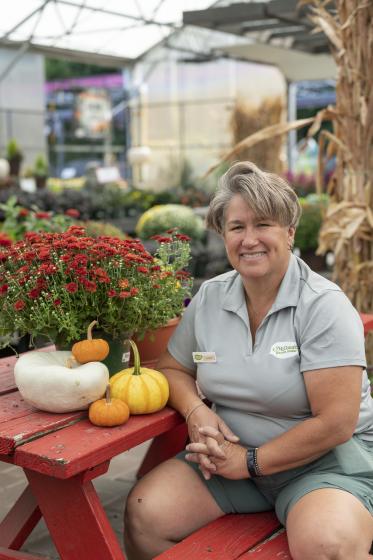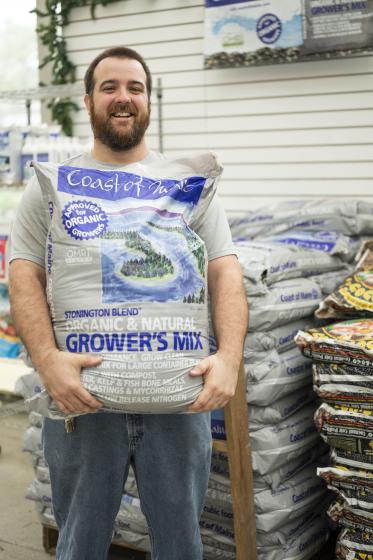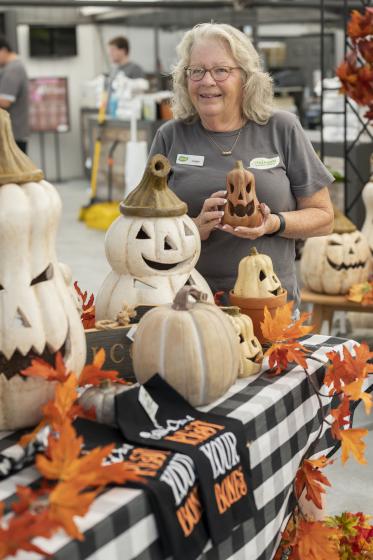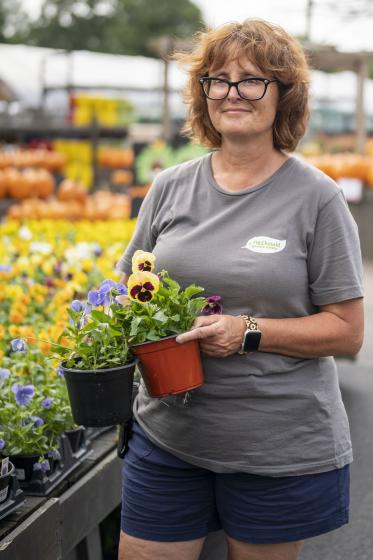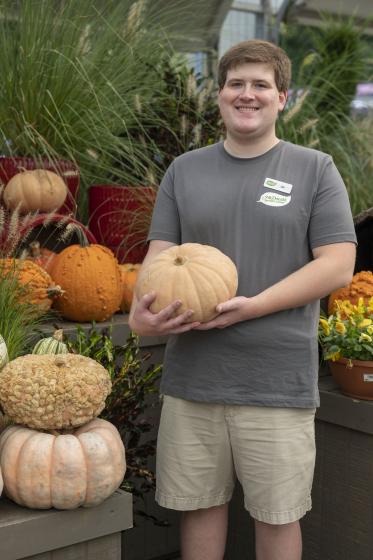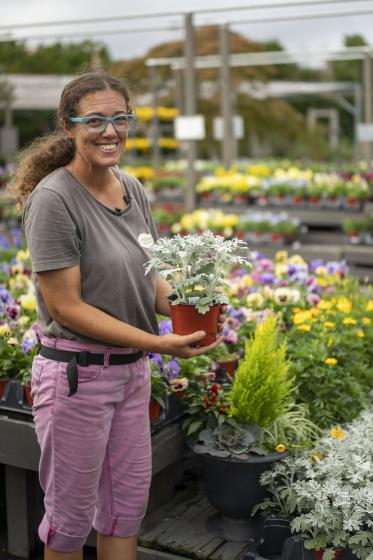 Michele + Fall Combo Pots & Kevin + Carving Pumpkins
Looking for that perfect fall pairing? Our dream team married couple, Michele and Kevin, have got you covered with their fall favorites. 
Annuals are the Hollywood star of the fall season at the garden center and there is nobody to shine the spotlight on them better than our annuals department manager, Michele. She is a fan of all of our annuals, however, this year she has chosen our fall combo pots as her fall favorite! She explains, "I love the combination of annuals and perennials. It's something I can customize all year." Not only do our combo pots come in decorative containers that are ready to pop out on your porch, but they also contain a variety of plants, including fall annuals, that can change as the seasons do at this time of year. 
Kevin is our "do it all" man at the garden center. Whether you need something fixed or built, Kevin has us all covered with the variety of skills in his tool belt. Kevin pairs up with Michele to show his fall favorite of carving pumpkins. He tells us,"Nothing says fall better than pumpkins. Carved or not, they are the perfect accents to my favorite season." 
Brendan + Coast of Maine Stonington Blend
Brendan, our Independence Boulevard location Garden Supply Manager, has worked in the horticultural industry for most of his life. Driven by learning more about plants and how to most efficiently grow them, he tells us why our new product from Coast of Maine is his fall favorite of 2021 "The Stonington Blend is a high-quality potting soil that takes the guesswork and confusion out of indoor growing. It feeds for 90 days and is very nutritionally dense. It's just a great product and we are so glad to be carrying it." 
Rachel + Fall Wreaths
Looking for a decor redo? Our deco manager, Rachel, is here to help at our Independence location! Whether you need advice on the perfect pottery to pair with your favorite plant or want to know the best ways to decorate for the upcoming season, she's got you covered. Rachel's pick this year emphasizes the need to visually amp up your space for the season. She explains, "There's no better way to celebrate fall than by decorating." Especially, when you are using fall wreaths. A seasonal wreath can not only decorate a door but a whole porch when paired with some of our other fall favorites. Stop by our Independence location today to ask Rachel about her fall wreaths!
Sarah (Dakota) + Florist Mums
As one of our new Green Team houseplant specialists, Dakota, has great enthusiasm for the changing of the seasons here at the garden center. One of the houseplants' favorites for fall is florist mums. Dakota tells us, "Florist mums are so beautiful and add fall color to your indoor space." Florist mums are slightly different from garden mums, as they are shaped differently and can be grown indoors with enough light. Come check out Dakota's fall favorite at either of our year-round locations!
Jules + Dusty Miller
Our Green Team member and receiving associate at our Independence location, Jules, has found a fall love that is usually overlooked. The dusty miller annual has found its way into Jules' heart and her pick for fall favorite. She explains,"The frosted look that a dusty miller has is a really good accent for other fall plants. Whether it's in a bouquet or a potted arrangement, dusty miller gives that 'little something' to the fall look you are going for." Thanks for the tip, Jules! 
Mike + Camellias
If you have ever been shopping for a tree or shrub at our Independence Boulevard location, we are sure you have talked to Mike Bender. As a long-time trees and shrubs expert, Mike is not only thrilled that the weather is getting cooler, but that trees and shrubs are flourishing with all their new stock of fall plants. One of these plant's being fall-blooming camellias- Mike B. 's fall fave. He explains, "Camellias add a splash of color to the autumn landscape when you need it most." Our camellias come in a variety of colors and sizes, so stop by our Independence location to chat with Mike about his fall favorite!
Gaby + Pansies
As one of our receiving experts at our Independence location, Gaby is one of the first people to see the freshest and newest shipments, just as they are pulling up to the dock. This includes the endless carts of pansies that we receive in the fall, which contributed to why pansies are this year's fall favorite for Gaby. "When we get a truck in and the rolling door opens to pull the carts of pansies out, you just get a wonderful whiff of fragrance. They are beautiful, yet low-maintenance plants that last through the cooler months.", she explains. Pansies are one of the best favorites to have for fall and we can't wait to celebrate them with our pansy days coming up!
For more staff fall favorites, check out last year's list of hits here on our blog. For more information about fall in general at our stores, visit our events page here.