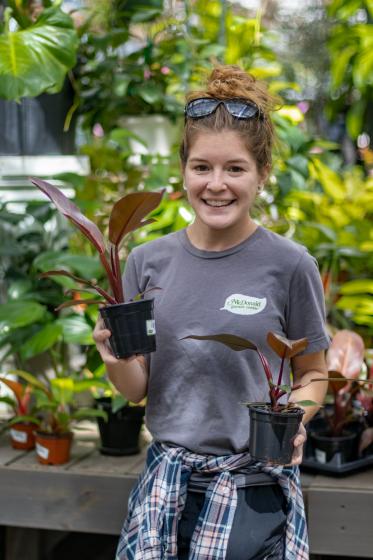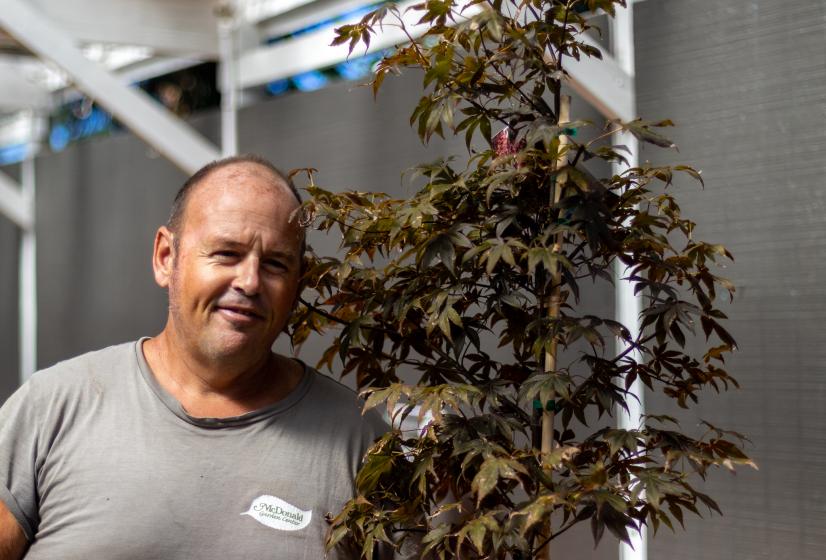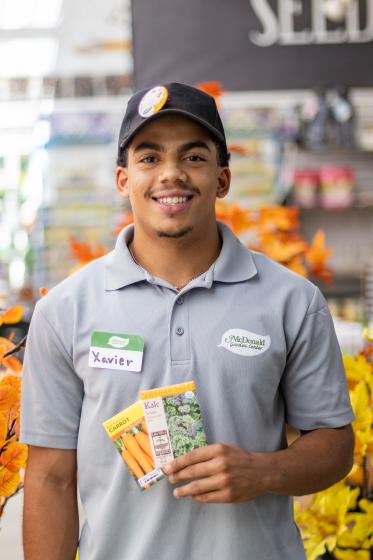 Fall is a great time of year to plant, decorate, and, of course, enjoy the beautiful Hampton Roads weather! There are so many ideas and projects to choose from that the gardening opportunities are almost overwhelming. Staff Fall Favorites Week is the time of the year where we gather our amazing Green Team members to talk about their fall favorites of the season, to further help you on your gardening journey.
We have chosen just a few of our Green Team members from each of our year-round locations to convince you why their fall favorite is the best. 
James & Bloodgood Japanese Maple
As the manager of our Independence location, James is very familiar with all the plants and products we sell here at the garden center. Because of this, it's so hard to have just one favorite. But, James narrowed it down to this variety of Japanese maple for his fall fave. He explains, "The Bloodgood Japanese maple is one of the best and most popular Japanese maples. It's reliable, hardy and has good sun tolerance. It's a great specimen plant that you can design a landscape around. The foliage, form, branch structure, and bark provides year round interest. Foliage for this Japanese maple emerges red in spring and matures to purple and burgundy tones by summer. Fall is my favorite season because that's when it turns a vibrant shade of crimson. The fallen leaves make a brilliant carpet on the ground. Sentimentally, this was a favorite of my mother and the first tree I planted for her many years ago."
Norm & Mini Pumpkins
Norm is one of our newer Green Team members, but he knew his fall favorite without a hitch. He tells us, "What's a better way to ring in the fall than with a tiny pumpkin? I like this pumpkin because it's the tiniest pumpkin I've ever seen. From the top of your mantel to the palm of your hand, this tiny pumpkin fits anywhere." Tiny pumpkins, as well as mini gourds, can be used as both indoor and outdoor decor, so they are a perfect item to grab for fall!
Kaitlyn & Philodendrons
Kaitlyn, one of our houseplant Green Team members, has a wealth of knowledge when it comes to plants of all kinds, especially ones that grow in our greenhouse. Philodendrons are a staple houseplant and a variety that is very popular with our customers. Kaitlyn explains, "It's so hard to choose, but I'd have to say my favorite fall houseplant is the philodendron. On top of being a great plant for beginners, they come in a variety of fun colors and patterns. The red and orange kinds are especially perfect for adding some beautiful fall colors into your home!"
Candy & Themed Doormats
Candy is one of our staple staff members that has always been here for our decor department and our customers. "My fall favorite is fall themed doormats. They are a quick and easy way to tie your fall outdoor decorations to the entryway of your house." She tells us, "A doormat, as well as other decor items like garden flags and stakes, can really change the look of your porch this season."
Nikki & Mums
Mums are a must-have for fall decorating, as well as planting, and nobody knows it better than Nikki, our perennials manager at our Independence location. Nikki elaborates, "Mums have spectacular color through fall, nothing says 'fall' like mums. They just the stage for the season." Our mums come in all sizes and colors to fit your decorating needs.  
Bob & Biotone
Bob is one of our longtime Green Team members at our Great Neck location, so he has a lot of experience when it comes to growing successfully. Bob states, "My favorite item is Espoma Bio-Tone. I use it to give all my vegetables, annuals, shrubs and trees a great start. It helps produce a vigorous root system to support plant growth."
Xavier & Fall Seeds 
Seeds are sometimes an overlooked garden supply item, but Green Team member, Xavier, knows different. He says, "It's always nice to grow from seeds because you get a rewarding return through experiencing the growing process and it's very simple to do!" Find fall seeds like carrots, kale, and more, over in our garden pharmacy sections of our year-round locations. 
Lukas & Ornamental Kale
Green Team member Lukas' favorite this season is ornamental kale. Ornamental kale can provide texture, as well as color, to all kinds of fall planting projects. Lukas tells us, "It's the perfect thriller for fall combo pots. And it's also great to pair with ornamental peppers and grasses for a fabulous combination."
Michele & Dusty Miller
As manager of our annuals section at our Independence location, Michele knows her way around blooms. This season she picked dusty miller, a fall annual that has great attributes for container and bed gardening. She further explains, "It adds a nice, neutral color and texture to any fall or winter planter and it lasts great from fall to spring!" This durable annual is an amazing pair with pansies as well. 
Andra & Marge - Pansies
Speaking of pansies, Great Neck Green Team members Andra and Marge can't speak more highly of a fall annual. Andra tells us, "I love it when we get pansies in! Their vibrant colors last throughout the dreary cold days of winter and are sure to brighten up your beds and pots." Pansies are loved not only for their beauty, but also for their durability, especially in the Hampton Roads area. Marge elaborates, "It lasts all winter and gives so much color!"
To see our full staff of fall favorites, stop by our stores to chat with our staff in person! And don't forget to check out the Garden Guru and his webinars with new plants, products, and expert planting advice. To keep inspired and grow with us, follow us on Facebook, Instagram, Pinterest and TikTok to dig into the joys of gardening!