Memorial Day is so much more than having a barbeque and an extra-long weekend. On Memorial Day, we honor those who paid the ultimate sacrifice for their country and mourn with the families who have suffered from this incredible loss. McDonald Garden Center has been honored to serve the military men and women of Hampton Roads for over 75 years. 
This year to honor Memorial Day, we have interviewed some of our resident veteran servicemen and women at our year-round locations and seasonal Garden Markets for a view into their U.S. Military background as well as their feelings on Memorial Day.
THE INDEPENDENCE LOCATION - 
Our Independence Boulevard location in Virginia Beach is our largest year-round location with about three acres of property! Tucked away on one of the busiest streets in Hampton Roads, we not only have amazing Green Team members who care for our plants and products, but also part of our corporate team in the on-property offices. At Independence, we have our veterans Heather Brown, our expert graphic designer and Larry Mireles, our new Green Team delivery truck driver.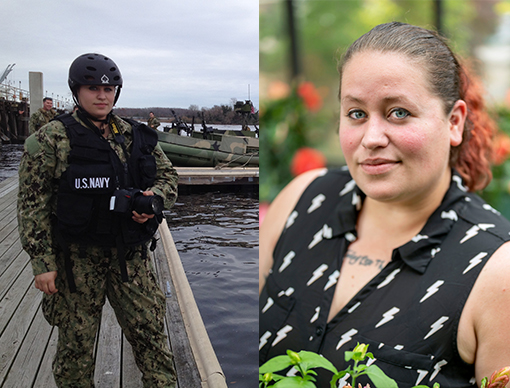 Heather Brown is the graphic designer at McDonald Garden Center and was a Mass Communication Specialist 2nd Class in the Navy, who served 2010-2015. When asked what is one thing that resonated from her years of service she replied "If you're going to do something, do it with meaning and give it everything that you have." Heather also shared what Memorial Day means to her, "Memorial Day is a time to grieve, but also celebrate the lives of those who gave their own for our country."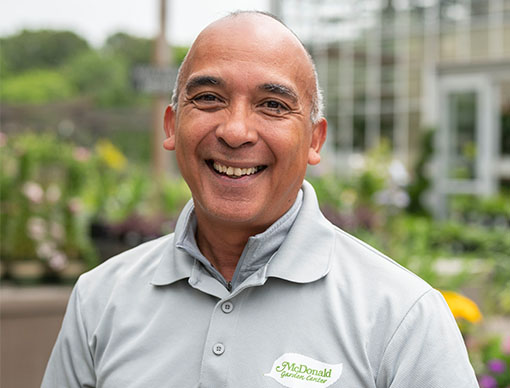 Hilario (Larry) Mireles started as an infantryman for the Army in 1991, but later transitioned to a musician. Mid-career he transferred into the Navy where he earned the rank of Navy Musician 2nd Class. Larry retired in 2011 and said, "I love the brotherhood and sisterhood of the military. There's just a comradery you have even when you meet so many new people. There is just a special bond there like no other. Also, the work ethic you experience in the military is so valuable."
When asked about Memorial Day, Larry said, "I think of September 11th, 2001. My boss told us that we needed to play music, that the people needed it. I sang for the Army Continental Band in Bryant Park, New York City and a nearby high school. We played all types of music to touch people at that time of loss and I was honored to be a part of it." 
THE GREAT NECK LOCATION - 
Our Great Neck Road location in Virginia Beach is our smaller year-round store packed with inspiration and quality products. This gem of McDonald Garden Center is home to veterans Bob Kelley, long time Green Team member, and sales associate and Starr Gilbert, a brand new addition to our staff!
Robert (Bob) Luther Kelley was an Army Captain from 1969 to 1972. He's been a member of our Green Team for 13 years and says that "working together as a team to accomplish our mission," is his biggest take away from his time in the military. To Bob, Memorial Day means, "remembering the sacrifice that was made by our service members to protect our country."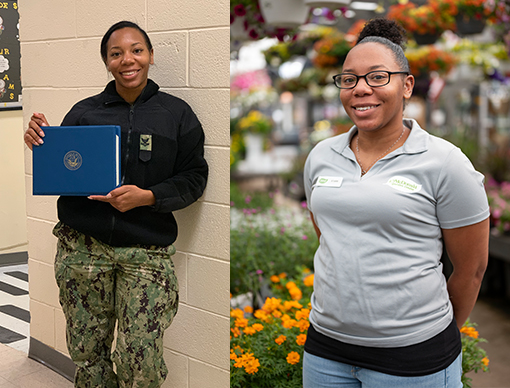 Starr Gilbert is a new member of our Green Team, who served in the Navy for four years as an Information Systems Technician 2nd Class. She said, "One thing I took away from my time in the service is that life is very precious and it should not be taken advantage of." Starr also shared what Memorial Day means to her, "To me, Memorial Day is a day of remembrance, appreciation and gratitude for everyone who served before me, with and after me that sacrificed their lives for the well being of others."
THE GARDEN MARKETS - 
McDonald Garden Center serves communities all over Hampton Roads. In the spring and summer months, we have our McDonald Garden Markets pop-up all over the area! Two of our ten markets are host to veterans, and Green Team Members, Richard Rochefort of the Bennett's Creek Market in Suffolk and David Wall of our News Road Market in Williamsburg.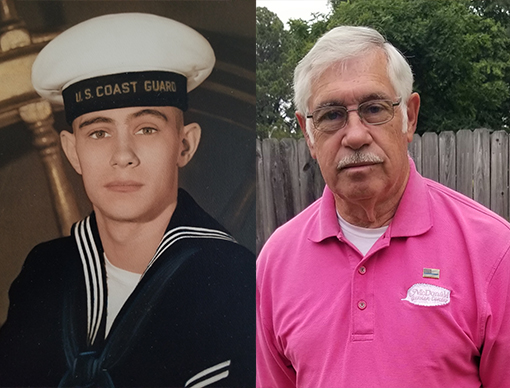 Richard Rochefort has worked at our Garden Markets for the past 12 seasons and currently manages the Bennett's Creek, Suffolk location. Richard served in the Coast Guard as a Boatswain Mate Seaman for four years. He shared how serving in the military has impacted him and said, "In the late 60's when I entered my military service I felt going into the military would help me grow up and that is what happened. It is also when I met my wife, Maureen of 50 years. We now have 3 children and 7 grandchildren." He also expressed that Memorial Day represents freedom and that it is a day "to honor all the sacrifices of those who have come before us, so we can have the freedoms we have today. I love this country and its greatness. God Bless America."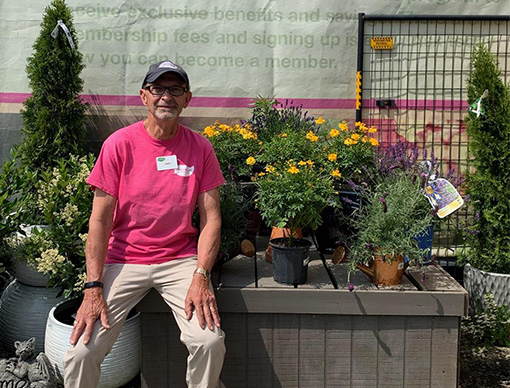 David Wall is a Garden Market Associate at our News Rd location and has been a part of our team for 5 seasons. He served in the Army for two years as a Supply Clerk Sergeant. David stated that he is happy and honored to have served his country. When asked what Memorial Days means to him, he said, "I am thankful for those who made the ultimate sacrifice."
This Memorial Day, McDonald Garden Center would like to thank our veterans (and every veteran) for their military service and insight on what this holiday means to them. We hope that everyone has a safe and happy holiday, but also not to forget those who gave their lives for all of us. 
"Honor to the soldiers and sailors everywhere, who bravely bears their country's cause. Honor, also, to the citizen who cares for his brother (and sister) in the field and serves, as they best can, the same cause."
-Abraham Lincoln