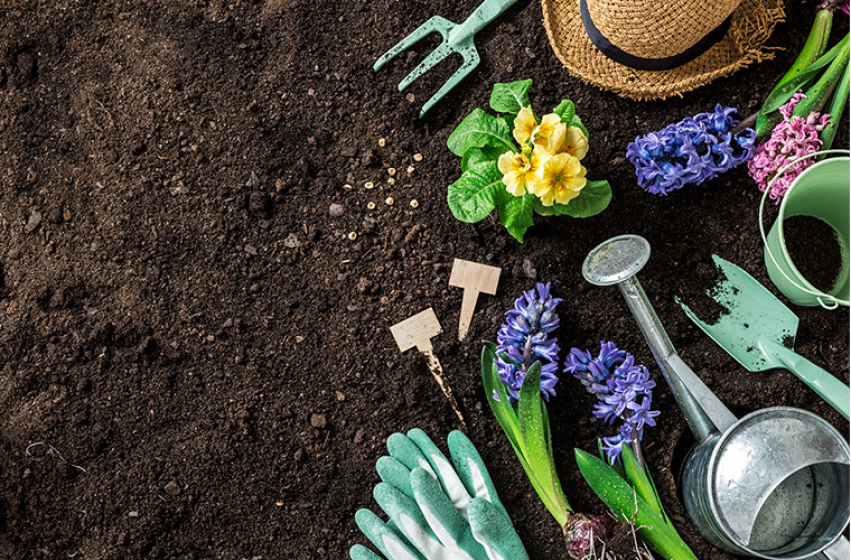 As the frost begins to melt and the days become warmer and longer, spring fever begins to set in. It won't be long until we'll be able to go outside and dig in dirt once again! If you haven't already, now is the perfect time to begin thinking about and prepping for your spring garden. Whether you're interested in edible gardening, seed starting, or just love to grow flowers, we're here to help. We've been growing Hampton Roads gardeners for 75 years and our number one goal has always been one thing -- to make you a success in the garden. Our Green Team experts have put together a list of some of our favorite spring gardening basics to help you do just that, be a success. Whether you are a true green thumb or just getting started, we're here to grow your knowledge. So, dig in and get growing!
SPRING ANNUALS.
Annuals provide color from the time of planting into early fall. Inexpensive, easy-to-grow and gorgeous - annuals are great for changing the look of your garden from year-to-year and filling in around bulbs, perennials and trees & shrubs. A few early-blooming annuals that are safe to plant now include petunias, dusty miller, snapdragons, geraniums, million bells, dianthus and verbena.
SEEDS & SEED STARTER ACCESSORIES.
Starting plants from seed is one of the most exciting and rewarding gardening activities. Growing seed is not complicated, it just requires a little thought and care. For best results, it is important to use fresh seed and follow the instructions on each seed packet which include specific planting tips, light source requirements and watering specifications.
FRUITS & VEGGIES.
More and more homeowners are finding their way back to the basics. Over the past four years harvesting home grown fruits and veggies has risen steadily. This is due to the popularity of organic food, concern for the environment, the cost of fresh produce and a burgeoning appreciation for great-tasting fresh food.
SOILS & AMENDMENTS.
Giving your garden the best foundation will make it healthier, more beautiful and less difficult to maintain later on. Before you plant, however, bring in a sample of your existing soil for a free analysis. A McDonald Garden Center expert will test the ph level of your soil and make recommendations on adjusting the level for the specific plants you wish to install. You can also get planting recommendations based on the soil you have. Building healthy soil is an ongoing process. By making healthy soil a focus at the start of making a garden, you will have a head start on creating a sustainable organic garden.
GREENLEAF ALL-PURPOSE PLANT FOOD.
A customer favorite! Greenleaf has been a McDonald Garden Center staple for years and now it's even better! We are proud to introduce our new 3-pound container with an easy-to-use lid and scoop. Greenleaf was developed specifically for plants in Hampton Roads and is a great general all-purpose fertilizer. It releases nutrients slowly and we recommend using it in containers, planting beds, shrubs, trees, perennials, annuals and more. In fact, it's what we use to fertilize our plants!
UNIQUE POTTERY.
There is nothing quite as effective as adding pottery and containers to your decorating scheme, both indoors and out. Not only can you transform drab areas of your home or garden into elegant and charming focal points, but containers can be functional as well as beautiful. Planters make it possible for anyone to experience the joy of gardening and provide the opportunity to cultivate a favorite herb, a fresh tomato and a host of other delightful and colorful plants, flowers, shrubs, and even trees no matter the space available.
HERBS.
Add tried & true herbs that grow great in Hampton Roads gardens. With parsley, basil, mint, thyme, rosemary, cilantro, oregano, chives, lavender, sage and many more... you can have culinary treats for every dish, right in your own backyard. Fresh herbs are easy to grow and can make all the difference between a good dish and an extraordinary dish! Once you begin to use fresh herbs in your favorite recipes, you'll never want to go back to using just dried herbs again. Chefs know that fresh food is always best and fresh herbs are no exception.
TREES & SHRUBS.
Trees and shrubs are the backbone of your landscape, and they serve a multitude of other purposes as well. You can use them to create shade, attract birds, or to give your garden privacy from neighbors or a busy street. You can plant them to provide year-round color, fragrant blooms, or a delicious harvest of fruit or berries. And vines do an expert job of framing an entryway, decorating a bare wall or fence, or adorning a trellis with lovely foliage and flowers.
GARDEN STATUARY.
Incorporating a special piece of statuary into your landscape is a great way to add architectural interest to your outdoor space. Garden statuary can be an integral part of any garden setting, adding to the aura of your peaceful sanctuary. There are often places that are natural focal points that would be ideal for statuary. A corner, a little alcove, a spot to the side of the front door - there are any number of places.
PERENNIALS. We love perennial plants, those long-lived plants that bring beautiful foliage and flowers year after year. Perennial flowers perform well in many situations: in flower beds, in combination with annuals and bulbs, as compliments to shrubs & trees, and in containers and window boxes. In addition, perennials often increase in size each year, which means they can often be divided and added to other spots in the landscape. Some must-haves are succulents, ornamental grasses, rudbeckia, coreopsis, geum, coneflowers, salvia, daylilies, and foxglove.
Check out the videos links below with Garden Guru, Mike Westphal. Mike is a 17 year veteran of McDonald Garden Center, who specializes in gardening solutions and visual merchandising.
To learn more about annuals click here.
To learn more about growing herbs click here.
To learn more about seed starting click here.
To view our online gardening videos click here.
To see our upcoming event schedule click here.