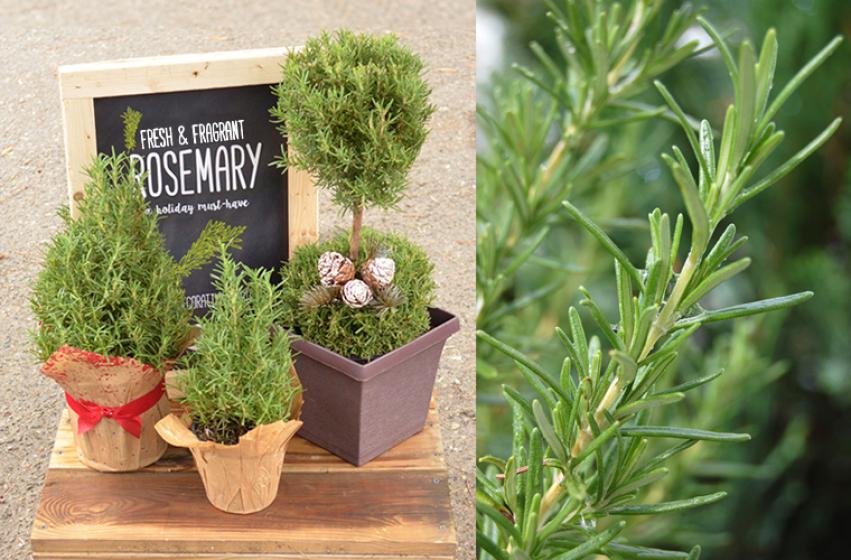 10 Ways to Use Rosemary
Rosemary is a must-have for every home and garden! This perennial herb boasts lovely fragrant, needle-like leaves of silvery green and is native to the Mediterranean region and is a member of the mint family. This hardy evergreen is easy to grow and is not just beautiful, it's very useful as well. Among its many uses, it's prized in the culinary world for its flavorful leaves. It also has a lovely fragrance and pretty, petite blue flowers in spring. While there are too many creative ways to use rosemary to list here, we've picked some of our favorites to share with you.
Holiday Decorating - Placed in an entryway, their fresh, crisp fragrance welcomes guests and beckons them inside. Arrange around the buffet, on side servers, or as table centerpieces. With their festive wraps, these tabletop trees and cones add splashes of color and shimmering accents throughout the holiday season. Or, simply place them in a decorative container and add a bow. And don't forget to tuck a handful of fresh sprigs beneath the ribbon just before delivering packages!
Cooking - Use fresh or dried rosemary leaves to give a slightly spicy and woodsy flavor to dishes. Rosemary is particularly tasty with poultry, meats, fish, potatoes, soups and stews and vegetables.
Landscape - Rosemary is a great landscape shrub! Not only is it a beauty, it's drought tolerant, deer resistant and super low maintenance. Upright varieties will add evergreen structure to the garden, and groundcover type varieties are great for trouble spots like slopes.
Beverages - Add fresh rosemary to water, hot tea, lemonade, or cocktails.
Fragrance - Rosemary is known for for its wonderful aroma. Add it to a simmer pot to make your home smell fresh and fragrant.
BBQ Skewers - Remove the leaves and use the woody stems as a skewer to infuse flavor into whatever it is you are grilling. And, don't throw away the leaves - sprinkle those on top for added flavor.
Basting Brush - We love this idea! Infuse a little extra flavor into meat by creating a basting brush using rosemary sprigs. Cut 6 - 8 stems of woody branches of rosemary at least 10 inches long. Remove a third of the leaves at the bottom of the branch. Tie them with cooking twine and use them to brush on marinades.
Infused Olive Oil - Snip 4 or 5 stems of rosemary and simmer with a cup of olive oil over medium heat for 5-7 minutes. Let the rosemary and oil cool, and then pour the olive oil and rosemary into a bottle. Seal the bottle and enjoy the beautiful and flavorful mixture yourself or give it as a gift.
Container Gardens - Trailing varieties look great spilling over the edges of containers and upright varieties add height. Plant them alone or mix them with other herbs for your own little herb garden.
Health & Well Being - Did you know rosemary is a memory booster? Yep, it's been shown to enhance concentration and memory by stimulating the human nervous system. Add it to your food, bathwater or your aromatherapy routine.
Care Tips for Rosemary Indoors: To care for rosemary inside your home, the most important requirement during the winter months is sunlight. Place in a bright sunny window, and turn the plant so that it gets sun on both sides. The soil in the pot needs to be well drained. Water it from the top every other day. Water may remain in the saucer to provide humidity for the plant, but do not let the water touch the bottom of the plant. Adjust the watering schedule if necessary to be sure the soil never dries out.
Check out more of our favorite plants! OUR PLANTS OF THE WEEK >>