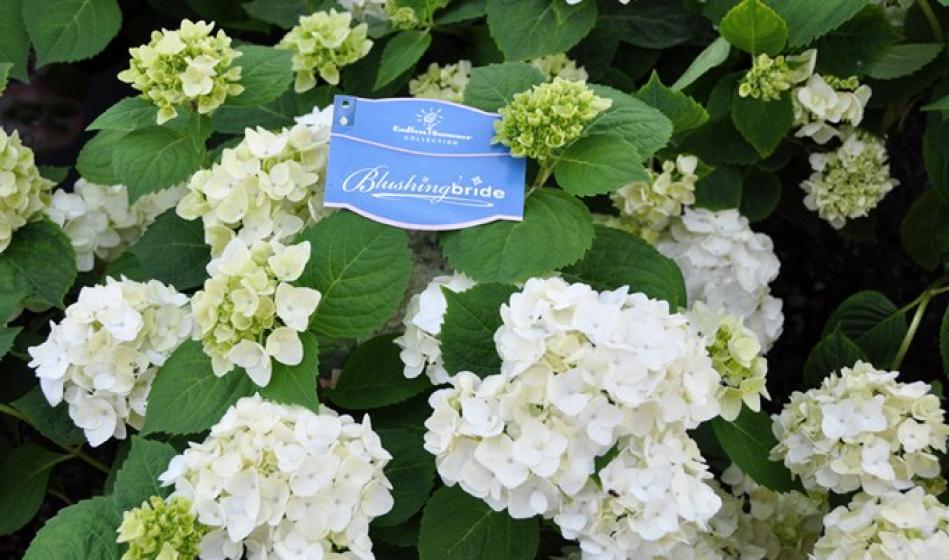 BLUSHING BRIDE HYDRANGEA
With June being peak wedding season, we thought it fitting to showcase the Blushing Bride Hydrangea. Endless Summer® Blushing Bride will add life and love to your garden and home virtually all summer long. Reliably blooming on both old and new growth, you can experience the beauty of Blushing Bride again and again, all summer long. This garden standout boasts pure white mopheads of showy, semi-double florets that gradually mature to a sweet, subtle pink. The brilliant blooms are showcased against the stunning foliage in deep, dark green. Strong stems and branches keep the plant sturdy and upright in the garden, and make the flowers perfect for cutting.
Blushing Bride is very forgiving and will not suffer if left unpruned, or if it's pruned at the wrong time. In fact, young, recently planted shrubs are best left alone. Unlike other Hydrangeas, your Endless Summer varieties will bloom on both old and new wood. Its ability to rebloom all summer long make this a favorite among Hampton Roads gardeners. These shrubs make an excellent wedding present or anniversary gift.
TIP: To encourage reblooming, remove spent flowers. Because Blushing Bride blooms on new growth, you don't have to wait until the next season to see baskets full of new blooms.