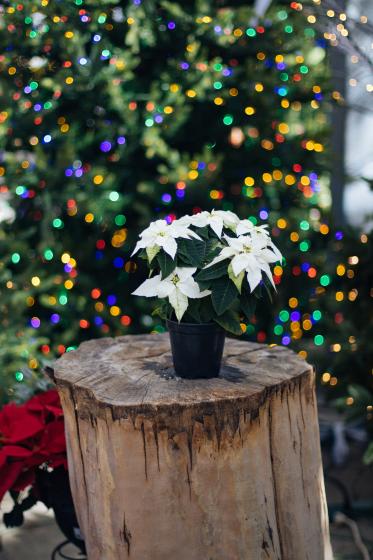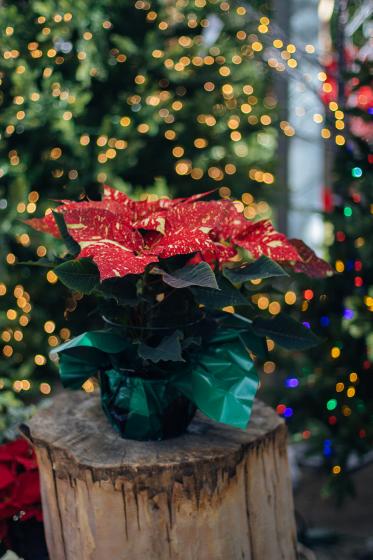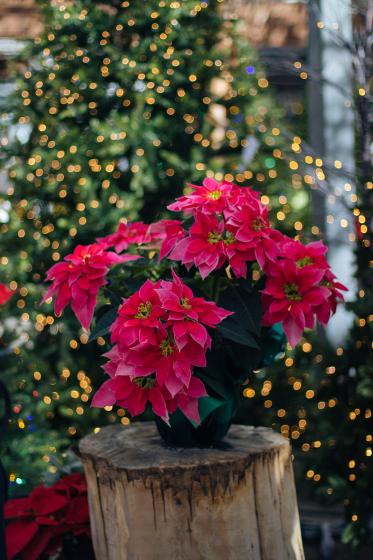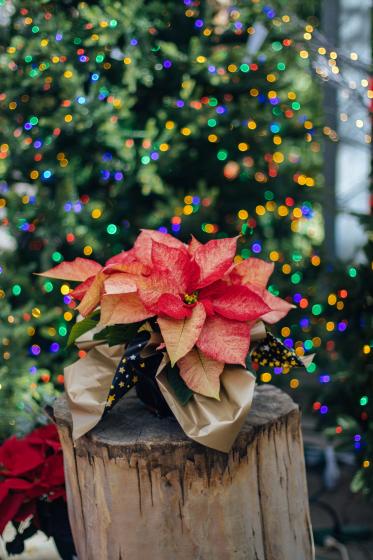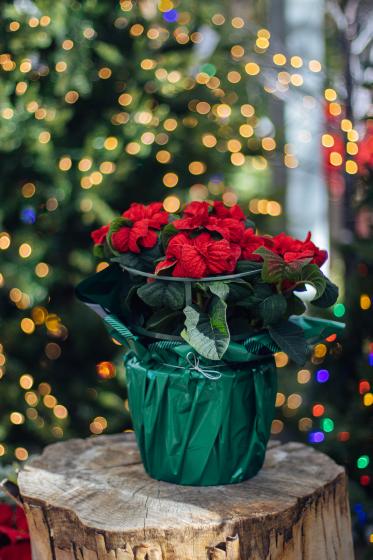 As one of the most famed and favored holiday houseplants, poinsettias are known for their fantastic color, tropical nature, and rich history. This makes them the perfect plant to have around to ring in some holiday cheer and create family traditions. At our year-round locations, we not only carry the traditional red poinsettia, but over 10 other varieties, as well as various sizes, to suit your decorating and gifting needs. This year, we have put together a list of our top 5 unique varieties so you can discover a new favorite this holiday season. 
5. Princettia Pure White
As the fairest of them all, the pure white poinsettia is sure to turn heads. This variety differs from the regular white variety because its color is clearer and less green-shaded. This is harder to achieve, and therefore, a more desirable color to collect for the season. Pair this poinsettia with a flocked tree and elegant snow-themed elements to create a winter wonderland worth remembering. 
4. Red Glitter
For your serious houseplant enthusiasts, this variety is definitely an eye-catcher. The red glitter poinsettia has unique variegated leaves, or "bracts," that fade into a solid dark green near the base of the plant. These poinsettias emulate some of our favorite rare tropicals like the Thai constellation monstera deliciosa and the pink princess philodendron. These are great gifts, as well as decorations for red and white color themes. 
3. Luv U Pink
Make your Christmas a little less traditional with this fantastic poinsettia. This variety definitely gives us Malibu Barbie energy with its vibrant hot pink bracts. Luv U Pink poinsettias are awesome gifts for your girlfriends or unconventional, vintage-style Christmas arrangements. Just imagine how perfect a pink tree would look with this variety for a fully-fledged flamingo look!
2. Picasso
Bring out your inner artist with the Picasso poinsettia. The highlight of this variety is the speckled pattern of the bracts that almost look as if they were painted on with watercolors. The main colors of Picasso are coral orange and dusty pink, creating a sunset of color that could only be compared to the work of Matisse and Van Gogh. Picasso poinsettias work amazingly with underwater-themed trees and decor due to their coastal color scheme. 
1. Winter Rose
The winter rose poinsettia is a regal beauty that you can rarely find outside our garden center. This variety has been cultivated to curl its bracts into a rose-like shape, creating a gorgeous bouquet perfect to give to that gardener you'd like to meet under the mistletoe. Winter rose poinsettias are also perfect to arrange under the tree to create a faux garden bed of rose-adorned "shrubs" to last throughout the holiday season. 
A Little Extra Info About Poinsettias
The poinsettia plant, or the cuetlaxochitl plant, is native to Mexico and had been used for centuries by the Aztec and Mayan cultures for its amazing color. When it comes to Christmas traditions, the poinsettia rose to popularity in 17th-century Mexico when they were used to decorate churches.
The American poinsettia as we know it was brought to the U.S. by Joel Robert Poinsett, the first Mexican ambassador for the U.S. in the early 19th century, which was then in turn made even more popular by the Ecke's, a multi-generational flower growing family that started out in southern California soon after the poinsettia's arrival to the United States.
Because of this long history, McDonald Garden Center has become a premiere location for local Hampton Roads residents to grab high-quality, unique poinsettias for gift-giving as well as decorating. 
To learn even more about what's growing on at our garden center, check out our Christmas in the Greenhouse page or watch Mike, the Garden Guru, and his webinars with new plants, products, and expert planting advice for the holiday season. To keep inspired and grow with us, follow us on Facebook, Instagram, Pinterest, and TikTok to dig into the joys of gardening!