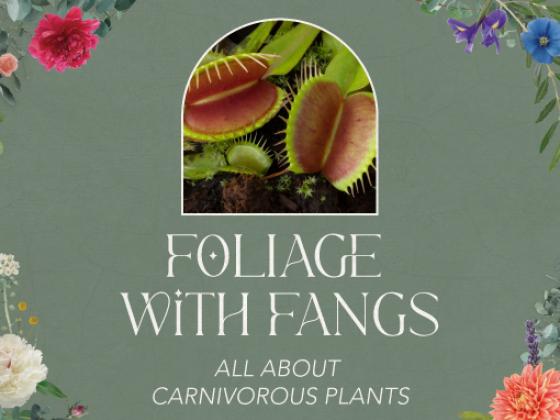 Independence & Great Neck Locations
Get ready to sink your teeth into the world of meat-eating plants! Join us for "Foliage with Fangs: All About Carnivorous Plants," an informative presentation, for all levels- whether you're a seasoned plant enthusiast or a budding botanist. Our Green Team experts will introduce you to these fascinating and often misunderstood creatures, and you'll get the chance to see these plants up close and ask questions.
On Sunday, March 19th at 2pm, come to either of our year-round locations and discover the many ways that these plants have adapted to catch and digest their prey, from the famous Venus flytrap to the exotic pitcher plant. You'll learn about the different types of traps and unique features that make these plants so intriguing.
Best of all, this event is completely free! No need to sign up - just show up and enjoy the show. We promise you'll leave with a newfound appreciation for these incredible creatures. See you at "Foliage with Fangs"!